December is the coldest month in India and loveliest of 'em all! It's the time when the weather is alluring as ever. Outdoors sing in melancholy, the Sun is mild, waves in the ocean are at their playful best and hearts are closer than ever. While entire India is getting ready to welcome the New Year, Goa – a former colony of the Portuguese, gears up for December 25th. Christmas celebration in Goa is a great carnival when every nook and corner of the place is drenched in lights and decorations.
Christmas in Goa is all about the smell of scented candles, the sound of Christmas carols, and exchange of a lot of gifts! Plan a night out with friends, listening to the ringing sound of church bells, and watch a firework.
10 Experiences For A Christmas Celebration In Goa
Christmas is the time when entire Goa basks in festivities and is decked up like a bride. There are plenty of places for a Christmas celebration in Old Goa. The place is dotted with ancient architecture mostly belonging to medieval times. Hit the Goan streets as the festivities are all over the place and also don't miss out the Christmas carnival in Goa. Christmas in Goa is definitely one of the most important festivals celebrated and here are some of the best experiences you can indulge in for an amazing Christmas celebration.
Missa De Galo: Attend The Mass
Firework Show: Witness The Picturesque View
Homemade Chocolates: Relish Delicious Goan Delicacy
Christmas Eve: Dance With The Locals
Mandovi River Cruise: Savor The Sunset
Old Man: Welcome The New Year
Crib-Making And Star-Making: Participate In The Competition
Christmas Feast: Gorge On Scrumptious Food
Bike Ride: Marvel At The Lit Goa During Christmas
Sunburn: Party Like Never Before
1. Missa De Galo: Attend The Mass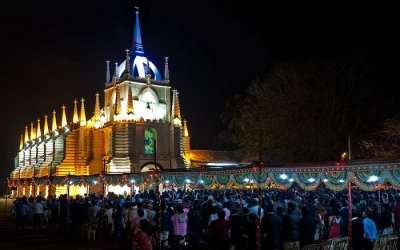 Image Source
Midnight Mass is a popular Christmas tradition in Goa during the New Year's Eve. Goa is a special place to celebrate the glorious Christmas night when people bask in the festivities. With almost 400 churches in Goa, people can easily attend a Midnight Mass at one of the churches on Christmas eve. Nothing gives the satisfying feeling than saying a prayer at Basilica of Bom Jesus – one of India's oldest churches.
This makes for the perfect place to celebrate Christmas in Goa. With hymns and Carols all around, you can perfectly make the most of the festive season. Midnight Mass proceedings usually start by 10 pm it is advisable to grab a seat at the church in advance.
Where: Bom Jesus Church, Church of Our Lady of Immaculate Conception, Se Cathedral
What's special: Beautiful hymns and carols
2. Firework Show: Witness The Picturesque View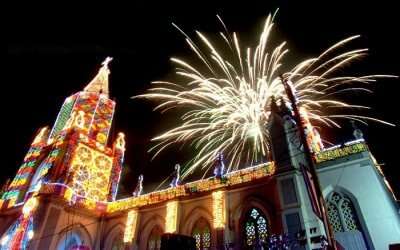 Image Source
Every place in Goa is completely drenched in festivity and lights. To make the most of Christmas in Goa, watch the cracker show all around, the entire place turns into a dreamy show and is indeed a treat to the eyes! The Old Goa region having most of the churches in Goa experiences the burst of light and one can soak in the exotic festive vibes in the air.
Anjuna Beach offers myriad of colors and light as the entire beach area goes partying until dawn, with the crazy crowd and colorful cracker show it's one of the most significant things to behold during Christmas celebration during Goa.
Where: Arambol Beach, Calangute Beach, Vagator Beach
What's special: Exotic festive vibe
3. Homemade Chocolates: Relish Delicious Goan Delicacy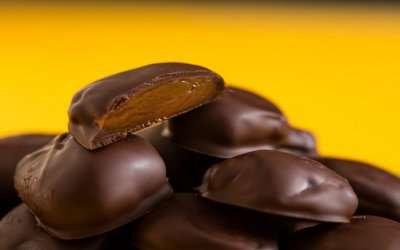 Image Source
Chocolate cakes are so popular and one of the Christmas specials in Goa! And it becomes even more delicious when you talk about the celebration with Christmas sweets in Goa. The homemade chocolate cakes are so delightful and lip-smacking. Colored Marzipan for Christmas is another popular dish in the offering. There are other mouthwatering Goan dishes that is a must-try for every food lover.
Some of the popular dishes in Goa during Christmas are Bebinca, Neureos, Dodol, and Bath. These dishes can be tried at the popular bakeries in Panjim, Mapusa, Candolim, and Margao to be precise.
Where: Cream Choc, Golden Chantilly, Jila Bakery, Hice Cream, Pastry Cottage, Artisan Backerei
What's special: Delicious chocolate cakes
4. Christmas Eve: Dance With The Locals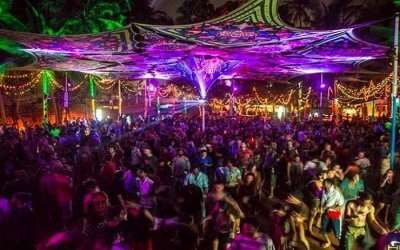 Image Source
Goa boasts of a nightlife that fewer places can even fancy! On a regular day, especially during the month of December, Goa is lit with party lovers rocking the dancefloor. What's special during Christmas eve in Goa is the exciting vibes, great bonhomie and sparkling decorations around. The trance party, techno parties, and rave party in places like Vagator and Anjuna are a must-attend in Goa on the special occasion.
Jive, waltz or fox-trot to the local bands would compel you to sway to their tunes. Those retro numbers and Konkani numbers are just too good for the grand occasion.
Where: Cafe Mambo, SinQ Night Club, Kamaki, LPK Waterfront, UV Bar, Emerald Laws
What's special: Exciting vibes and sparkling decorations
5. Mandovi River Cruise: Savor The Sunset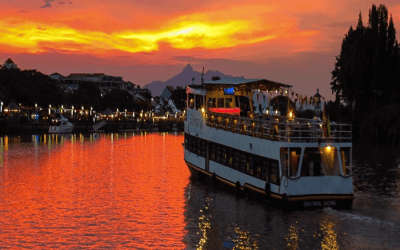 Image Source
Take up a river cruise or arrange a private boat party with your friends, Christmas is the ideal time to flock to Goa. As you take up a river cruise in Mandovi River you get to experience the magical Christmas evening like never before. An evening spent while cruising on the waters during Christmas celebration in Goa is indeed special. If you are with your beloved you can indeed plan a romantic candlelight dinner. Go ahead and book a slot for yourself.
What's special: Private boat party
6. Old Man: Welcome The New Year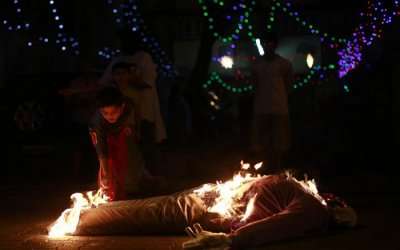 Image Source
Burning of the Old Man – the effigies made of stuffed old clothes & hay is a popular Goan tradition in which the locals burn the effigy which marks bidding goodbye to the old year and welcoming the new year. The locals, as they burn the effigy, share the tales and enjoy a glass of Feni – the traditional Goan drink.
Where: Coastal villages like Salcete, Benaulim, and Varca
What's special: Feni, the traditional Goan drink
7. Crib-Making And Star-Making: Participate In The Competition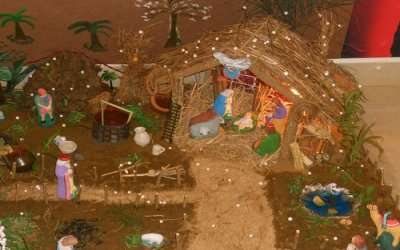 Image Source
Christmas crib is a popular attraction during the celebrations in Goa. People participate in various competitions and come up with a multitude of interior design ideas, and furniture. The most prominent ones are those depicting the village of the Jesus. Also, there is a star-making competition held between the locals which are organized on a larger scale with the high-spirited competition.
Additionally, you can also take part in cake mixing ceremony and gourmet lessons wherein festivities are celebrated by mixing cherries, dates, plums and dry fruit with the likes of rum, whiskey, and wine. Crib hopping in Goa and attending plays and Christmas party across Goa are the other most popular events during Christmas in Goa 2022.
What's special: High spirited competition
8. Christmas Feast: Gorge On Scrumptious Food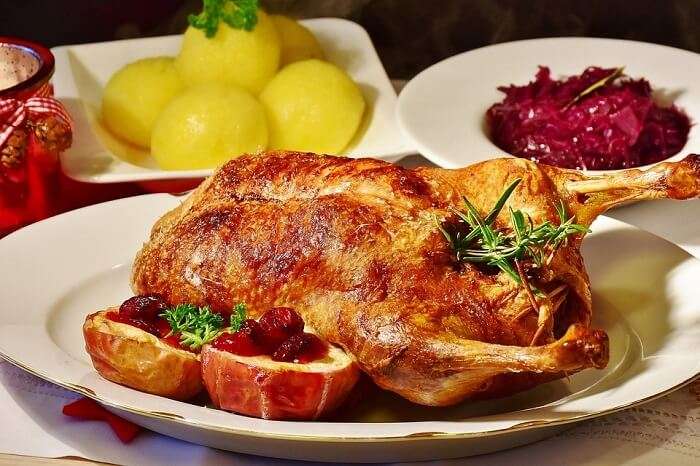 Goa is famous for its delicious cuisine the world over. And what better time to dig in than the Christmas festival in Goa, right? That too when you'll be served the best dishes during the festive time. You can choose to treat yourself to a traditional Christmas dinner at a posh restaurant or beach shack on this special occasion, and we bet it won't disappoint you! Try mouthwatering delights such as roast turkey, pork sorpotel, plum cakes, stuffed chicken, and a variety of grilled seafood, all of which you'll find at almost all high-end restaurants on Christmas in Goa as part of special festive dinner buffets. Oh, and don;t leave without indulging in the favorite dessert of all Goans – Bebinca.

What's special: Mouthwatering delights like stuffed chicken, grilled seafood and more
9. Bike Ride: Marvel At The Lit Goa During Christmas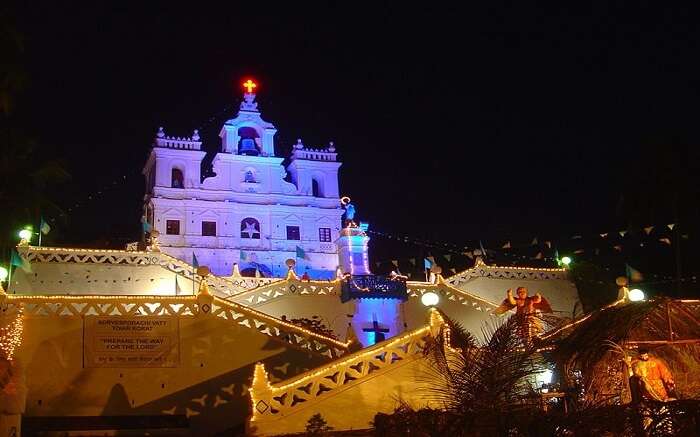 There is no wrong direction in Goa in Christmas time, as every direction, street, alley, and road will greet you with glorious views of Christmas festivities enveloping this hip town. Be it churches, shops, houses, or malls, every bit of Goa will be illuminated in the brightest colors and decked up in the prettiest decorations on Christmas. And the best part – even the weather will be on your side on those breeze nights in Goa in December! Don't forget to stop by and take plenty of pictures whenever you can!
Best Places To Visit: Church of Our Lady of Immaculate Conception, Se Cathedral, Baga Beach, Anjuna Beach, Panjim Market
What's Special: Prettiest decorations
10. Sunburn: Party Like Never Before

It's not like you'll just attend the Christmas festival in Goa and then run home the next day, right? That too when you have the biggest and most awaited music festival just two days after Christmas in Goa! You'll have a lot of fun watching International DJs play live, dancing the night away to some awesome music, and gorging on lots of good and booze! Better than any Christmas carnival in Goa, Sunburn is going to have you hooked to this town for a while and will make you come back for more the next year to join the frenzy and shake a leg!
Location: Vagator Beach, Goa
What's special: Awesome music and good food and booze
5 Places To Go For Christmas Celebration In Goa
Goa has plenty of colonial architecture to keep you engrossed. The Archbishop's Palace, Penha de Franca, Basilica of Bom Jesus, Viceroy's Gate, and Church of Our Lady of Immaculate Conception are some of the places that exudes old-world charm. Here is a list of the best places to visit in Goa during Christmas!
1. Old Goa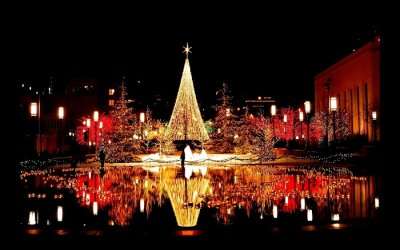 Image Source
Old Goa looks the most stunning of them all. The lost charm of Old Goa makes it a favorite during Christmas. Church of St. Francis of Assisi is the center of attraction with people from all over the world flocking to the church and queuing up to catch a glimpse of the mortal remains of the pope. Also, the domed Church of St. Cajetan, inspired by St. Peter's in Rome, Se Cathedral from the 16th–17th century, and the Chapel of St. Catherine are other prominent structures that must be visited in Old Goa.
2. Anjuna Beach

Think Anjuna, think Shiva Valley and Curlies. Arguably the most happening place in North Goa, this place is quite famous for the rave party and happening crowd. No wonder why this is termed as one of the hotspots in Goa to explore during the Christmas Eve. Plan to enter the Curlies by 8 or 9 pm, because as the night progresses, the entry fee increases.
3. Clubbing/Partying Hotspots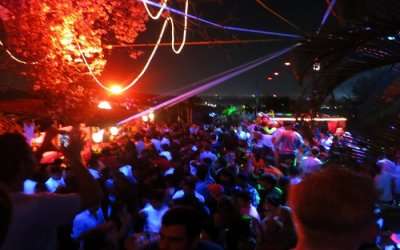 Image Source
Clubbing is the best thing to do in Goa. And you don't need to wait for the Christmas party in Goa or New Year Eve to hit the popular clubs in Goa. But one thing that stands apart is the electric vibes in the atmosphere of Goa Club. Goa, around the New Year and Christmas, keeps brimming with ecstatic people; people who love partying and want to drench themselves in the festivities. There are a few clubs which are popular during the Christmas time in Goa, Tito's Lane at Baga Beach, Club Cabana in Arpora, and the shacks at Anjuna Beach that makes for the most happening places in Goa!
4. Beach Shacks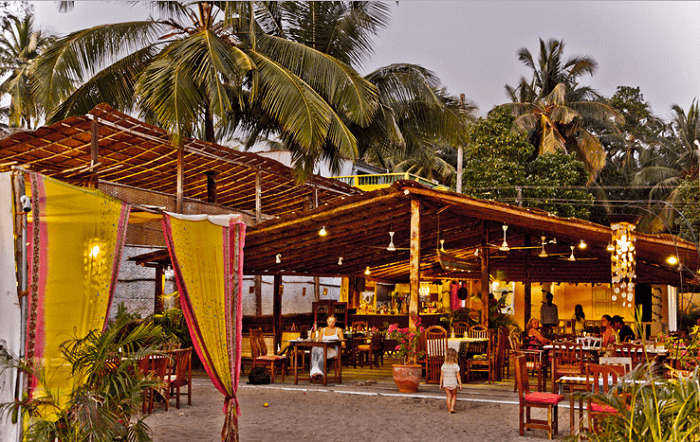 There are countless shacks on the shores of Goa and they just need a reason to deck up and party. Christmas eve in Goa surely provides an excellent opportunity to host one! No matter which famous beach you choose to visit on this day, you'll end up in the midst of a crazy crowd tapping their feet to loud music, beach shacks lit up in colors and lights, and the smell of food on a barbecue. If you're a party person you would go absolutely insane seeing the amount of energy that's there on the beach shacks in Goa during Christmas. And the best part – the party won't end before sunrise!
Best Party Beaches For Christmas: Anjuna, Baga, Calangute, Ashvem, Arambol, Vagator, Morjim, Candolim
5. Restaurants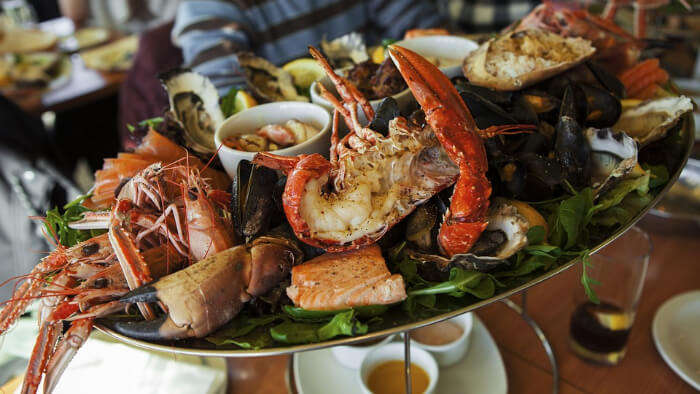 If you're more of a foodie than a party person, Goa has something special in store for you too! Plenty of places in Goa host special Christmas dinner buffets in affordable packages where you can come and dine on exquisite Goan delicacies to your heart's content. In most places, the dinner arrangement is usually accompanied with live performances, music, and other ceremonies. In fact, it's the best thing to do with your family or spouse in Goa at Christmas time without missing out on the fun that this town offers during the festive season.
No place in India celebrates Christmas the way Goa does! Pack your bag and book your GOA Trip stay at Zense Resort and set out on a journey to explore the season of lights, camera, and celebrations! You might run out of energy making a Christmas celebration in Goa but Goa never runs out of attractions and places to explore! Christmas night is an occasion when the entire Goa refuses to sleep. While kids love to sing carols, smack munchies, and go exploring the Gothic churches of Goa brimming with adornments, adults find their interest in the party place by the beach.